Steve is one of Sight Life's volunteers and service users at Sight Life from Rhondda Cynon Taff (RCT). He started experiencing sight loss 12 years ago after a series of mini strokes, which caused him to lose his sight in his right eye and only see limited shapes and objects in his left. 
Steve worked and was very active with family and friends before he lost his sight. Yet after his diagnosis, he felt his life was over.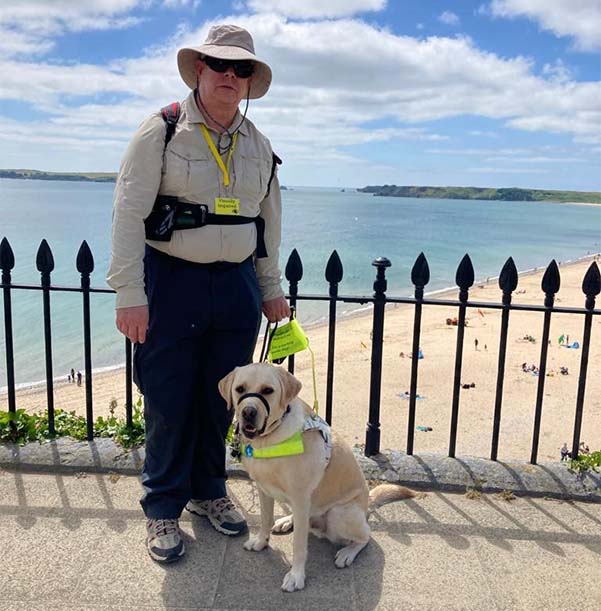 Steve was too afraid to leave the house alone and had a limited support network. Unfortunately, during this time, he suffered several bereavements. His friends didn't know how to help him and with little support, Steve didn't know where to turn. He was told he "slipped through the net". Luckily, Sight Life was there to catch him!
With the assistance of his daughter, Steve looked online for help and found Sight Life, or Cardiff Institute for the Blind as it was called at the time.
How your support helped 
Your support allowed Sight Life to be there when Steve needed us most.
Sight Life put Steve in touch with the right people, so he could access the support he needed. With Sight Life's help, Steve was able to access key guidance so he could begin to manage life better with his sight loss.
Our Locality and Development Manager, Carys Groves, was central to Steve's introduction to Sight Life. He calls her his "angel" who has helped him to no end. She always seems to know the answer to any of his problems and is "always looking out for us" at RCT. Carys is integral to Steve's journey with Sight Life and inspired him to start volunteering for us himself.
In 2020, Steve began to volunteer for Sight Life. Throughout the pandemic, he was very active in keeping our contact lines open and ensured our most isolated members had someone to talk to whilst they were in lockdown. Steve spoke with lots of people, young and old, who were experiencing sight loss. This massively built his confidence, and in his own words, "made me feel I wasn't alone – I was just one of hundreds of people who had lost their sight and it was nothing to be afraid of."
Following the end of the lockdown, volunteering has kept Steve busy. It has helped him get out of the house to meet and talk to new people every day.