Why support Sight Life?
We understand that living with sight loss can be incredibly challenging. Sight Life provides essential and timely help, advice, and support for anyone with sight loss across South Wales, predominantly covering Cardiff, Swansea, Neath Port Talbot and Rhondda Cynon Taf. We have an activity and resource centre in central Cardiff and our work is also carried out via home-visits, groups in the community and through 1:1 sessions. We work with almost 3,300 people with sight loss across the region to help them engage with and take an active part in their community. We help beneficiaries to access the digital realm and make daily activities easier. We empower those newly diagnosed with sight loss to live the lives they want to. We have a range of activities and groups for people to participate in, access the arts, take part in sport and go on trips to new places. Whatever the sight condition, our work is designed to support blind and partially sighted people at all stages of their sight loss journey and for however long they need.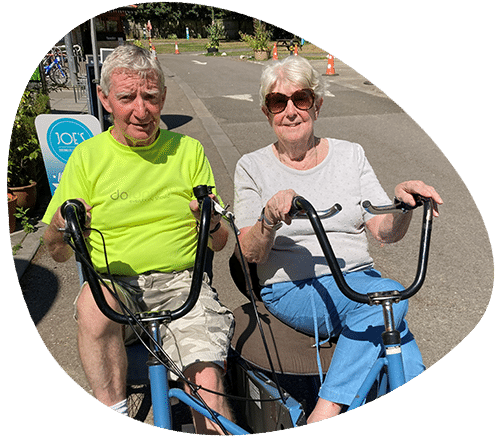 How your support helps Sight Life
By playing Crackerjackpot you are helping us support blind and partially sighted people to maintain or improve their physical and emotional wellbeing by providing advice and support to help them exercise, manage medication, eat healthily, increase confidence and self-esteem, give them a sense of security and future, and reduce incidents of falls and accidents.
Sight Life's support enables clients to work, volunteer or take part in lifelong learning and we provide workshops and courses to help with shopping, transport, money management and other essential daily living skills. We help beneficiaries to be digitally included and connected by providing computer and technology support. We run social, peer-support and activity clubs across the region and organise a contact line whereby clients are called to reduce isolation and check on their wellbeing.
£10

£10
could help someone attend a virtual peer support group with others with a similar sight condition
£50

£50
could provide tailored technology support to help someone with sight loss stay connected
£100

£100
could provide a home visit to someone newly diagnosed with sight loss
What we do
Sight Life is small but mighty!
We have nine members of staff and over 140 volunteers, many of whom have a sight condition. Our offices are located in Cardiff and Swansea but much of our work takes place in the community. We often carry out home visits to those who have recently developed a sight condition that is impacting on their lives.
Because of contracts or the funding we have from local authorities, health boards and the National Lottery Community Fund, we mainly focus on delivering direct services in Cardiff, Swansea, Rhondda Cynon Taf, Neath and Port Talbot. We also provide advice to people outside those areas via telephone, via our quarterly newsletter or through our social media channels. With your help, we can grow to ensure that we're there every blind and partially sighted person in South Wales when they need us.
Our Vision
Our vision is working for the day when all blind and partially sighted people are able to participate fully in our community, enjoying the same opportunities, freedom, responsibilities and quality of life as people who are fully sighted.
Our Mission
Our Mission is to make a positive difference to the lives of blind and partially sighted people in Cardiff, Swansea, Neath, Port Talbot and Rhondda Cynon Taff, by providing support, advice, social activities and the skills to enable them to reach their full potential and lead independent lives.
Feedback
From a recent survey to Sight Life members:
100% were less digitally excluded.
89% felt less isolated and lonely. 
71% were more active and healthier. 
89% felt their life was more enjoyable and fulfilling.
"When you left my house I cried out of relief and happiness. I was given so much hope and realised that I'm not on my own anymore."
"Your social groups have been a lifeline.  I no longer feel depressed." 
A chance to win,
a chance to care
Win up to £12,000 for only £1 per play and help make a difference to blind and partially sighted people in South Wales.